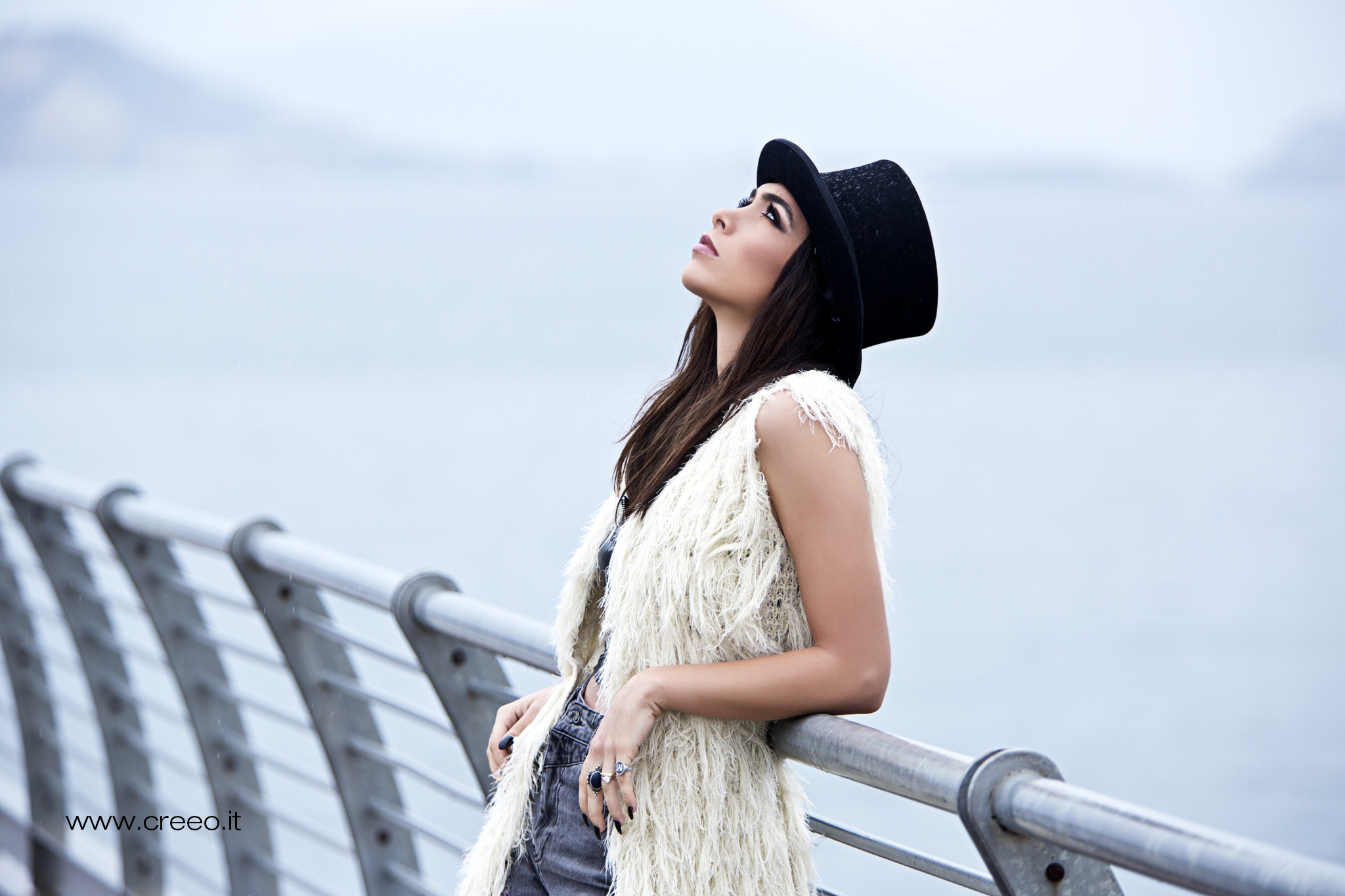 About Me
I was born in Rome, Italy the 28th of August 1994. I always loved singing but nobody, except my grandmother, knew about it.
At age 14 she pushed me to start to take singing classes, so every Wednesday, after school, I would drive my little car to my grandma's shop and have lunch with her and after eating, my teacher, Renato Moro, would come and my grandma would close the shop just for me to take class and hear me singing. We spent so many hours working on the technique. I loved it but it was very hard and frustrating at times.
I always felt that I wasn't good enough or ready enough to perform in public.
I was so self critical that 4 years passed by and still nobody knew that my passion was to sing. At 17 something happened in my life that truly changed me. My first love died in a motorcycle accident. That event shook me so hard and made me gain courage in my life. That tragedy made me understand all the way to my core that my time on earth has an expiration date that I don't know and that as long as I'm here, I need to give meaning to everything I do because all my fears, my perfectionism, won't matter when I'm gone.
So finally at age 18, with a little help of the people I love, I started being part of a talent show and I finally performed in front of a crowd. It was at the Futurarte in Rome. All my family and friends came to support me. There were at least 200-300 people in the crowd. When they called me to perform, from how nervous I was I lost my voice.
The first song I ever singed in public was "that's what friends are for" and still until now is one of my favorite songs. Let me tell you, that performance wasn't a success. The first night of the talent show I got nominated for elimination. When I left the place I was so mad at myself for even believing that I could do it.
After a couple of days, they assigned me the next song to sing. I told myself that I needed to prove to myself that I was worth it and I could do it. I worked so hard on that song and especially on motivating myself. The next week I had to sing the song and compete with a new girl, and whoever won, would have been part of the show and the other one eliminated. I was so nervous, again. But this time, I didn't let my fear get the best of me. I singed and I had fun and yes I was freaking out but I did it. And everybody was cheering for me and I won.
From that day on, I never stopped performing. I did many other talents show and I started singing in a band too.
I started singing at Jewish weddings with the Mazaltov band. Every wedding was so much fun for me. One of my favorite places where I performed at is the "Gay village" in Rome. I had the opportunity to perform in front of thousands and thousands of people. The place, is a big open space, summer club. There is where I discovered the real fun in performing. The songs required were club songs, that made people dance and have fun. I also performed for the first time with dancers, that's how I discovered my interest in dancing too. Someone one day told me that I could never dance because "I was just not made for it". Those words resonated in my head for the longest time. I needed to prove to myself that I could do it.
In the meantime I got my high school diploma and passed the test for one of the most important colleges in Rome.
August 2014 I went with my family to New York City for the first time in my life. I stayed just 4 days and those 4 days were enough to take my breath away and change my life forever. September 2014 I was back in Rome and I started perusing my career in business and management in college. Everyday I was in college I felt like something was Missing, that I wasn't in the right place and most importantly I was extremely miserable. One night I couldn't sleep, I couldn't figure out what I wanted from my life. Then I had an epiphany. 2.30am I grabbed a big white piece of paper, tape, and newspapers. I told myself, without overthinking, as I usually do, just cut any word or phrase that inspired me. At 3am the white blank paper wasn't blank anymore. Everything leaded to my American dream and art.
Finally, I made up my mind and that same night I started looking for singing and dancing schools in New York. I found out about Broadway dance center and their program for foreign students, and I applied. The morning after I remember being on my computer looking at New York city's images and telling my brother about my plan. I was so excited and scared to talk about it to my parents but then I did, and they supported me and my craziness from day one.
Two very important movies for me that kept me daydreaming are "burlesque" and "Rock of ages". I watched them so many times I can't even guess a number.
January 25th 2015 I landed in the city that never sleeps. My new chapter was starting. And I was the happiest person on the entire planet. My mom came with me, luckily, because the lady who rented me the room I was supposed to live in, disappeared. So for the first week we stayed at the Pennsylvania hotel. Neither the cold or the snow stopped us from finding a new place with no discouragement.
I started living in Hell's Kitchen and the day after we found the place I started school. My mom left. I was completely alone in a big city speaking very poor English. The first six months I can't remember a day that I didn't cry, before going to sleep, tears of happiness, sadness and frustration all at the same time.
After a year or so, I was looking for a producer for my music. Finally after a lot of searching I found the guy who promised me so much, and in my ingenuity, I gave him the money he asked me for. I never saw him or the money again.
I was very discouraged but fortunately one thing leads to the next and finally, this time, I was able to work with a producer and create 3 songs together with him.
My first 3 originals. It was such an emotion for me. Worked day and night in a small little studio in a basement in the Bronx.
Now I've been living in New York for 3 years. My English improved a lot and I'm able to finally communicate and express my personality. I got my certification from BDC and also I graduated in "One year acting for film" at the New York film academy at the same time I kept on working on my music releasing my first single "risk my life". And now I'm working on a lot of projects and new songs that I can't wait to show you guys.
PS: to that person that told me I couldn't dance, I just want to say, "thank you". Because if it wasn't for those words I would have not invested so much in bettering myself and I would have not found out my passion for dancing. And that paper I made that night is still with me, sticked next to my mirror, so that every morning when I look at myself I have a constant reminder of how and where everything started.
Never stop believing.